UI and UX Design Services
Get High Quality Services for Startups & Businesses at Affordable Prices.
We are a globally renowned UX/UI Design and Development company, bringing simple, elegant, and worthy experiences all at the same time. Our UI/UX designers have more than 15 years of experience, who work with the end user's perspective in mind.
Our UI and UX Design Services
Website Design
Our innovative and creative design squad dive deep to immerse themselves to understand your industry domain and brand appeal.
Landing Page Design
At CSSKart our valuable clients will get superior quality template website design services at reasonable rates.
Website Redesigning
CSSKart is a solemn web solution that focuses in exposing classic website redesigning services.
Dynamic Website Design
CSSKart provides numerous and worth full services to their valuable clients such as the dynamic website designing
Ecommerce Website
CSSKart is amongst the leading company in India offering Ecommerce website design to our valuable clients.
Mobile App Design
An interactive web application readily amplifies user engagement. Our user-centred web apps are feature-rich, intuitive, and perform exceedingly well.
Tools We Use for UI/UX Designing

Our Process of Web Designing
Highlighting features of our comprehensive Web Design Services
Understanding Requirement
Our team spends time understanding your needs and requirements in depth to ensure that the website is both visually appealing and effective at fulfilling its purpose. It's crucial for success from the very beginning of development because it ensures an efficient user experience!
Wireframe and Design Creation
Wire framing is like the blueprint for your website. It helps you visualize how it will function before moving on to other steps in designing a site, such as modeling content and visuals that can be used later when coding dynamic HTML code into templates according to what was designed beforehand.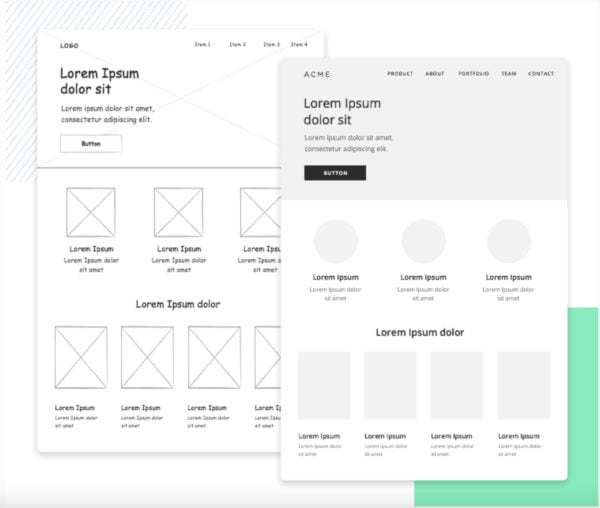 Development and Integration
The next step in the design of a website is the development of the pages. After our designer has created the wireframes of the pages, he has to give them life. In other words, our designers will fill those pages with images, text, menus, etc.
We also make sure that the website functions properly and integrates with your existing systems. This ensures that you get a website that is not only beautiful, but also meets your business needs and is SEO friendly.
Testing
Our team will conduct final testing once the website is finished to ensure that it functions correctly on any device and looks great. We'll also check for compatibility across different browsers. If necessary, we will also make corrections or changes to ensure that you are satisfied with our work at the end of the service.
Do You Need A Custom Website for Your Business?
We develop beautiful, engaging & Custom eCommerce Websites.